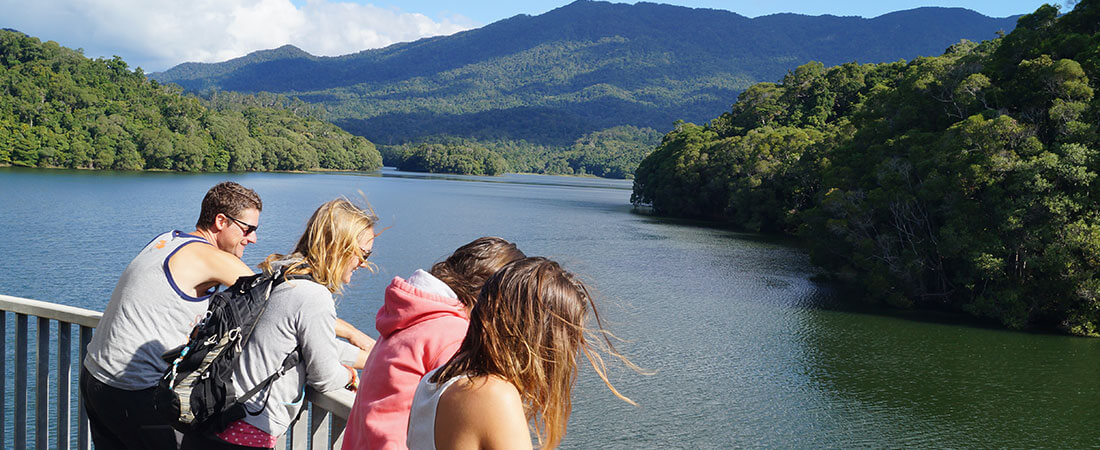 Welcome to Cairns Day Tour
We are dedicated to showing you all of Cairns best local secrets here is a sample of what is included in your day with Lets Go Cairns. Your knowledgeable guide will ensure you leave Cairns knowing the same if not more then the locals do about this wonderful city.
PICK UP From your hotel Accomodation
BOTANICAL GARDEN VISIT – For the adventurous we wake up and start the day with a walk on the famous red arrow walk. Spot a bush turkey amongst the beautiful natural Mount Whitfield Conservation Park . Alternatively you can stroll around the beautiful Flecker Botanic Garden admiring the variety of plants which thrive in the tropical Far North Queensland.
ELLIS BEACH – Enjoy a stop for coffee or tea and feel free to sit,walk or paddle at a magical little beach located north of Palm cove. Find out the reasons why many of these beautiful beaches don't have so many swimmers.
PALM COVE – Enjoy a small walk out on to the Palm Cove jetty and meet the various fisherman and others experiencing the exceptional views and breathing in the salt air.
TRINITY BEACH – Another less known beach but visited regularly by the locals of Cairns is Trinity Beach. Another place to feel the sand between the toes and take advantage of the great views.
LOWER BARRON GORGE – Discover this beautiful gorge where the Barron river cascades down from the Kuranda range and meets Lake Placid before continuing to the sea. Includes views of the Barron Gorge Hydro Station and Surprise falls.
STRATFORD DELI – Time for lunch which is provided with something for everyone. Burgers,sandwiches,pies or pastries with chips and/or salads. Feel free to add a delicious milkshake or coffee at your own expense should you desire. Learn all about our pioneers of this historical area and why it was so important for the region.
GORDONVALE – While we are digesting the historical information (and our delicious lunch) we will continue on a short trip south of cairns to Gordonvale which is another historical and interesting place to visit. This is the place where the cane toad was first released into Australia. Find out more about QLD's largest crop sugar cane and how the industry was developed.
CRYSTAL CASCADES – Discover the famous crystal cascades with its refreshing pools and lush rainforest. Enjoy a small rainforest walk or jump in for a refreshing dip in freshwater creek.
LAKE MORRIS – Wind our way up the mountain into the Dinden Forest reserve to see where our clear drinking water comes from.
RETURN – Say Goodbye to your guide ,enjoy a well deserved relax and remember your unique experience .You can now consider yourself a Cairns local and will be ready for the next adventure.
Click images below to enlarge