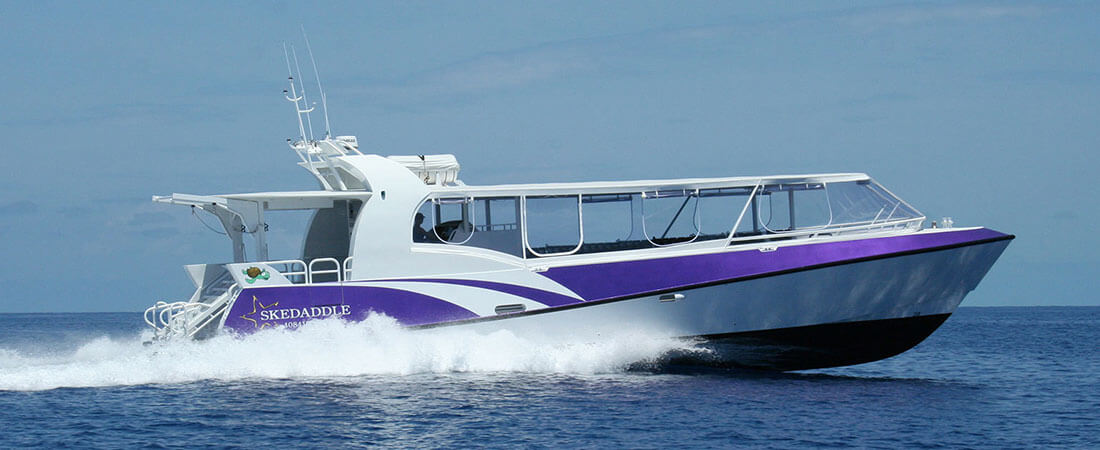 Half Day Great Barrier Reef Tour
The only half-day outer reef jet boat tour from Cairns.
Combining swift travel to the outer reef, with the full snorkel experience.
In only half a day, you will see everything you could see on a full day cruise.
Leaving the mainland at 12pm, the tour gets you back to Cairns by 4:30pm.
Jump aboard the noon jet to the outer reef! ½ Day Tour with a maximum of 36 passengers.
Ideal for when you do not wish to spend a full day on a Great Barrier Reef experience.
Your Itinerary:
12:00 Noon: Board Skeddadle at Marlin Marina E Finger.
1:15pm: Arrive at Hastings reef, where the 1 hour free guided snorkel safari begins, after which there is another hour of snorkelling time. After 2 full hours it is time to get back onboard.
3:30pm: Depart Hastings Reef for home
4:30pm: Arrive back to Cairns. Please note all times are approximate and can change due to weather conditions.
Inclusions:
Skeddadle noon jet boat to the outer reef
One hour guided snorkel experience
Two full hours of snorkelling time
Facebook photos taken daily and uploaded for you to see for free
Click images below to enlarge