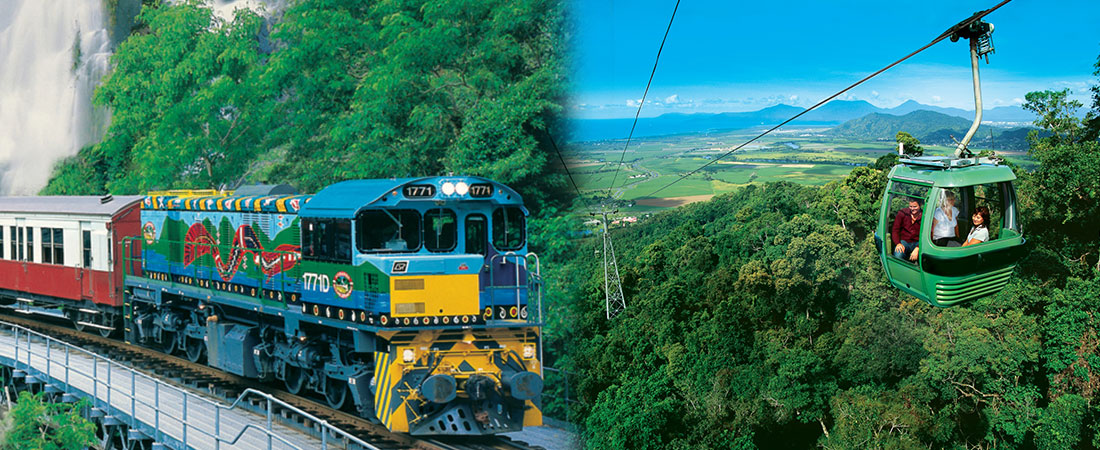 Skyrail Cableway & Train Packages
Skyrail Rainforest Cableway & Kuranda Scenic Railway
PRICE Adult $129 Child $84 Family $330
9.15 am – We will pick you up from your accommodation and provide transfer to the Skyrail station in Smithfield.
9.45 am – Board the multi -award winning Skyrail Rainforest Cable Way. Red Peak Station – Lush rainforest including the towering Kauri Pine. Ranger guided boardwalk tours are available throughout the day. Barron Falls Station – Spectacular views of the Barron Falls via three lookouts; CSIRO Rainforest Interpretation Centre; historical pioneering displays.
11.30am – Arrive Kuranda Kuranda is a picturesque little village hidden in the rainforest of Tropical North Queensland and is famous for arts & crafts, indigenous artefacts and a huge variety of attractions to explore. Enjoy up to 4 hours of free time in the village of Kuranda to browse its markets, have lunch or visit wildlife and other attractions at your leisure. Choose
2.00pm or 3.30pm – Depart Kuranda Railway Station. The Kuranda Scenic Railway return journey takes under 2 hrs to complete and includes a full commentary on the history of the region and the railway with a souvenir booklet included. The train route winds back along the Kuranda Range with alternative views of The Barron Falls and takes in the spectacular scenery whilst descending through tunnels and over bridges towards Cairns with a slow transition back to city life through the suburbs of Freshwater and Stratford.
5.30 pm – Pick up at Cairns Railway Station for return transfer to your hotel. Please note earlier return train from Kuranda is possible should you require but pick up will remain at 5.30 pm. This will allow approx. 1.5 hrs at Cairns Central Shopping Center.
Plus Packages
Includes Sykrail / Train Package Plus Extra Attraction
Take me to the River package – PRICE Adult $147 Child $93 Family $379
Includes Skyrail/Train Package + reserved ticket on the 45 minute Kuranda Riverboat Attraction. The river is home to a host of wildlife including freshwater crocodiles, turtles, snakes, water dragons and fish together with over 100 species of tropical birds.

Take me to Paradise package – PRICE Adult $159 Child $99 Family $414
(Minimum 2 Pax to commence)
Includes Skyrail Train Package + reserved ticket on a guided interpretive rainforest walk accessible only via the Kuranda Riverboat. The first rainforest tour in Far North Queensland used this same trail in the 1920s. At the end of the guided tour, and within the maintained clearing, there is a natural spring and a delightful area where you will be served tea/coffee and cake.
Down & Dirty Package – PRICE Argo Adult $209 Child $149 PRICE Atv Adult $224
Includes Skyrail Train Package + Experience the North Queensland Savannah on your own ATV or Argo. Ride through creek beds and dense rainforest close enough to touch. Includes transfers from Kuranda.
Click images below to enlarge