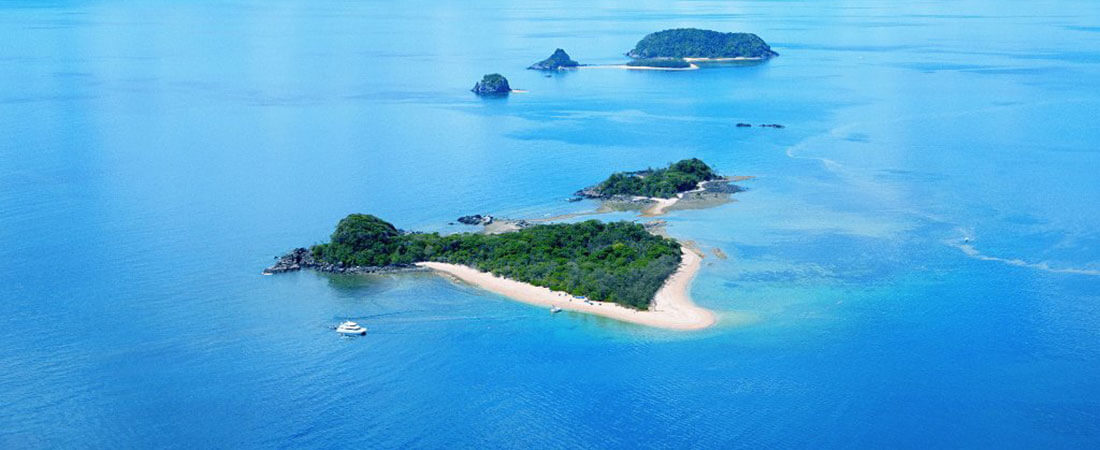 Barrier Reef Island Adventure
Full Day Island Adventure With Frankland Island Cruises
Being the only operator to visit the pristine Frankland Islands this tour offers the opportunity for our customers to explore the diversity of Coral that surrounds the Island's by snorkeling or diving with an average of only 40 other Guests. This is a very rare & unique experience. For others, relaxing on the unique deserted tropical island designated as a National Park is more than enough. The islands on the Great Barrier Reef offer a fantastic diversity of Marine life including regular sightings of Sea Turtles, Octopus as well as a large variety of soft and hard corals and giant clams. If you only have time for one reef trip – this is the one. You will leave in awe of this 'wonder of the world'.
ITINERARY:
7.45 am Depart Cairns transfer by coach to the Frankland island jetty on the Mulgrave River
8.30 am The day begins with a leisurely cruise down the magnificent Mulgrave River. Learn about the area's unique flora and fauna while taking in the beauty of the surrounding rainforest clad hills. At the mouth of the river, the Frankland Islands slowly come into view and it is only a short open water crossing to our destination for the day.
9.30 am Arrive – Frankland Islands a perfect location for snorkelers to drift over the amazing variety of corals and marine life that inhabit the area, including fish, sea turtles and octopus. The guided snorkeling tour offers a chance to discover and interact with the reef under the guidance of the marine naturalists. Equipment is provided, as is the tuition to get you comfortably using your mask, fins, and snorkel.
Alternatively, stay dry and discover this underwater paradise with a coral viewing tour from the semisubmersible or glass bottom boat A highlight unique to Frankland Islands is your guided "Island Discovery walk" – join our marine naturalists for an informative and fascinating exploration of the island's forest, sandy beaches and the reef's nursery – the rock pools. Divers are able to discover the wonders of the Great Barrier Reef with a certified or introductory dive (optional extra).
12.30 pm A tropical buffet lunch is served on the island and the menu is catered by our contract Chef, providing a choice of several salads, chicken, cheese, ham, prawns and an abundance of cut fruits.
The day is yours to enjoy as you wish. You have a variety of optional tours (additional cost) to enjoy – otherwise snorkel, discover and simply relax on the pristine white beach and enjoy the serenity and beauty of the island paradise.
14.30 It is time to depart the island. Afternoon tea of cake and tropical fruit is served on board before arriving back to Cairns at approx 5 pm.
15.45 Arrive Jetty on the Mulgrave River
17.00 Arrive Cairns Hotels
Click images below to enlarge